From solar energy to nuclear fusion, Plasma Processes serves a wide range of customers within the energy market. We offer innovative product solutions and technologies such as photovoltaic materials, coatings, and composite materials technology. Innovative coatings permit higher temperatures which boost efficiency.
Oil and Gas
Neutron Absorption and Detection
Plasma Processes applies neutron absorption coatings to oil industry logging systems involving geological sensors operating under the severe service conditions of deep drilling.
Valve Coatings
Deposits, corrosion, and erosion on a valve ball or seat will eventually result in downtime or loss of product from seal failure. Plasma Processes applies highly-adhered coatings to internal valve components to extend valve life. The coatings can be ground & lapped to dimensional specifications. Material compositions include metal matrix composites for wear and metal oxide ceramics for corrosion protection. We also apply a highly specialized tantalum/titanium oxide coating for severe service valves for the mining industry.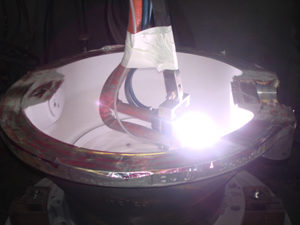 Power Generation
Fuel Cells
Solid oxide fuel cells (SOFC) are electrochemical conversion devices that produce electricity directly from fuel. Plasma Processes offers several methods for depositing solid oxide fuel cell coatings with an emphasis on product quality and productivity.
Nuclear Fusion
Plasma Processes materials and composites are being used as components in high-performance heat exchangers for nuclear fusion, called divertors. Faced with the extreme conditions that prevail within the fusion reactor, they ensure reliable heat removal while withstanding temperatures of over 2000 °C and the stresses induced by massive cyclic thermomechanical loading.
Solar and Photovoltaic Plasma Processes offers a complete line of coatings and sputter targets for the solar and photovoltaic industry.
Sputter Targets Plasma Processes provides customized cylindrical sputter targets used to create thin films for the architectural glass industry to create low-e and electrochromic glass. Both cylindrical and planar geometries are available with lengths up to 52".
Land Based Turbines Plasma Processes develops and applies turbine coatings used to improve and enhance surface properties demanded by extreme operating conditions. Applications range from anti-seizure coatings of nut threads to turbine blade coatings enabling the very high combustion chamber exit temperatures. Other applications include hard coatings to enhance wear resistance and abradable seal coatings.