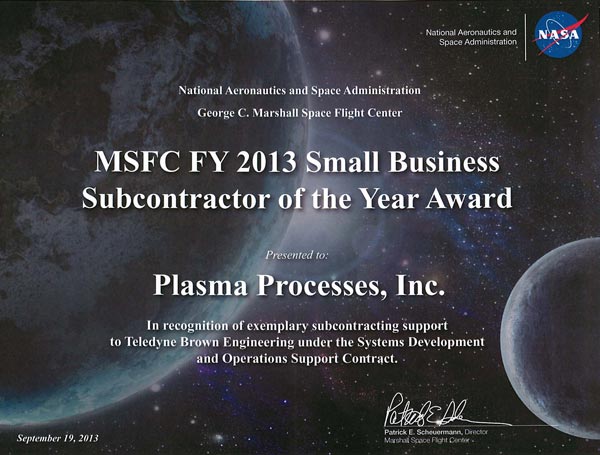 NASA's Marshall Center Honors Top Contractors, Support Teams with 2013 Industry, Advocates Awards
Plasma Processes, Inc. of Huntsville, named Marshall's Small Business Subcontractor of the Year, for support to Teledyne Brown Engineering under the Systems Development and Operations Support Contract. 
September 19, 2013 large and small business prime contractors, subcontractors and civil-service teams were honored for leadership in the aerospace business community and sustained support for the work of NASA's Marshall Space Flight Center in Huntsville, Ala., and for NASA's mission.
The awards were presented Sept. 19 during the 2013 Industry & Advocates Awards ceremony hosted by the Marshall Center at a meeting of Marshall's Small Business Alliance at the Davidson Center for Space Exploration in Huntsville.