Plasma Processes offers engineered materials solutions meeting demanding performance criteria, stringent quality requirements, and challenging schedules to our aerospace and defense customers.  We strive to reduce the total cost of ownership through implementation of novel materials and unique processes.
Advanced Surface Engineering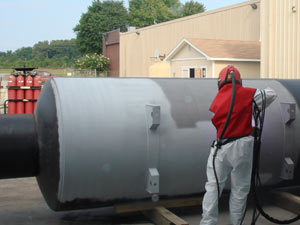 Alternative Materials
Environmental and health regulations are leading to the loss or restriction of an increasing number of chemicals currently used in coatings and surface treatments applied to aerospace and defense components. As a result, alternatives without environmental, safety or occupational health issues are sought. Plasma Processes has materials and processes that are able to match or exceed the performance of currently used materials. Examples include carbide coatings to replace hard chrome plating, aluminum metal matrix composites beryllium alternatives, and powder-deposited coatings without volatile organic compounds.
Corrosion ProtectionCorrosion Protection
The U.S. General Accounting Office estimates the cost of corrosion to the Department of Defense between $9 billion and $20 billion annually. In some agencies, corrosion maintenance represents 20% of the entire budget. Plasma Processes offers commercial, off-the-shelf solutions to combat a wide variety of corrosion issues. We also tailor programs to investigate, apply and validation corrosion solutions for metals, plastics, polymers and other substrates.
Dimensional Restoration and Repair
In most cases, application of Plasma Processes' coatings to equipment used in high-wear or corrosive environments costs a fraction of replacement. Equipment repaired or rebuilt by Plasma Processes benefit from longer life through improved corrosion- and wear-resistance. We offer turn-key solutions as we take your project from concept to completion.
Aircraft and Jet Engine Coatings
Aircraft Component
Aircraft engine manufacturers such as General Electric, Pratt & Whitney and Rolls Royce are the largest users of thermal spray coatings. Plasma Processes is able to meet the stringent coating specifications of these manufacturers
Thermal Management
Emissive Coatings Plasma Processes provides emissive coating solutions to properly dissipate thermal energy from the component. Emissive coatings are tailored to the substrate and environment, are able to withstand combustion by-products and the hard vacuum of space, and avoid distortion commonly associated with high-temperature heat treatments to oxidize the surface. Hypersonic Materials Plasma Processes provides leading edge and nosetip thermal management materials solutions for hypersonic vehicle components and projectiles operating at speeds above Mach 5.5. Thermal Barrier Coatings Plasma Processes applies thermal barrier coating systems designed to insulate components from prolonged heat loads. These coatings allow for higher operating temperatures while limiting thermal exposure, oxidation and thermal fatigue. Thermal Protection Systems Plasma Processes offers Thermal Protection Systems (TPS) for space vehicles to protect them from aerodynamic heating. Our TPS solutions feature high-temperature capability in combination with underlying thermal insulation to inhibit the conduction of heat to the interior of the vehicle.
Radiation Shielding
Plasma Processes provides radiation shields for protection against galactic cosmic rays, solar energetic particles and secondary neutrons.  Durability samples, mounted for passive exposure on the International Space Station, have been tested on Materials International Space Station Experiments (MISSE) 6.